What is a Keratin Treatment?
Keratin treatments are used to control frizzy hair. A keratin treatment will not straighten your hair, but it will smooth it and add shine and manageability.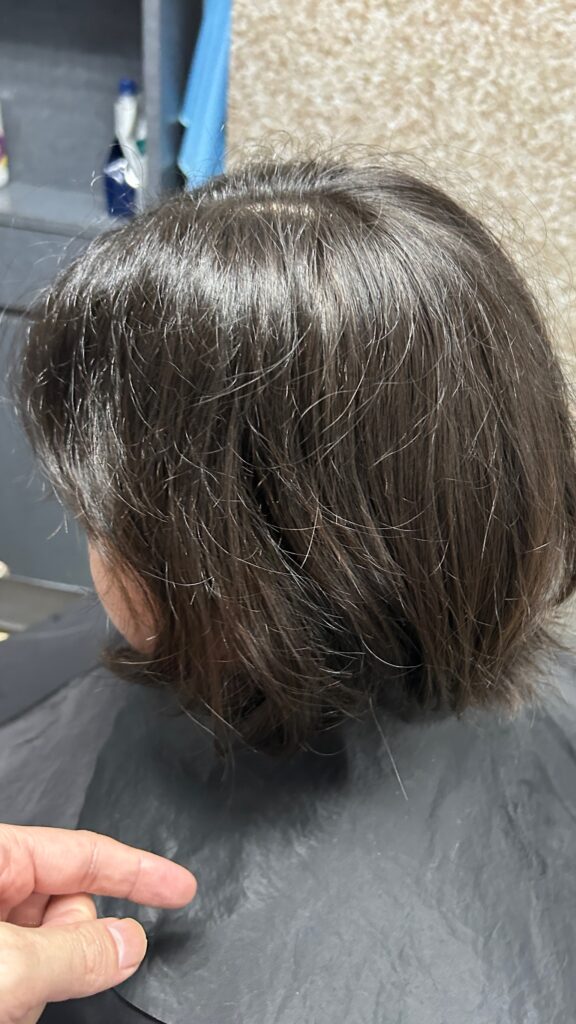 During a keratin treatment, we will apply a coat of protein (keratin) to your hair with a mild chemical mixture. This procedure seals your hair's cuticle (the protective outer layer) to prevent moisture from moving in and out of your strands. Then we will rough-dry your hair before sealing and activating the coating with a flat-iron.
The treatment typically takes 1–3 hours and lasts 3 months. (A keratin treatment is not the same as hair relaxing or chemical straightening, which only lasts until your hair grows out.)
If you have coarse or unruly strands, keratin treatments can be very effective. However, as with any treatment that involves harsh chemicals and high temperatures, there might be risks to your hair.

Booking here
Do you have frizzy hair that is difficult to manage or unruly locks?
If you answered yes and want smooth, silky hair that is easy to manage, we have the solution for you. Our Keratin Smoothing Treatment significantly reduces frizz and softens hair, resulting in results that are incredibly easy to manage.
Hair health is noticeably improved with a Keratin Smoothing Treatment, which provides long-term conditioning and protection.
Because Keratin Smoothing Treatment is not a straightening treatment, it does not restructure hair like other straightening services. As a result, the hair looks more natural and has more body and movement.
If you want sleek, straight hair, try our Japanese Chemical Straightening service.
Is keratin smoothing Treatment right for me?
A Keratin Smoothing Treatment is appropriate for anyone who has frizzy, curly, or difficult-to-manage hair. It's perfect for anyone looking for a low-maintenance hairstyle.
What result will I get?
You will notice a significant reduction in frizziness and a change in hair texture after treatment. Hair will become smoother, silkier, and less tangled, making it easier and faster to manage.
The treatment can also be tailored to your specific needs. Our expert stylists can tailor the treatment to keep your natural wave or curls or make your hair sleek and straight.
Some hair types may require little or no styling (wash and go), whereas others may require heat (blow-drying) for a straighter look.
How long does it last?
The Keratin Smoothing Treatment can last from 2-4 months depending on your hair type and after care.

Booking here
Japanese Chemical Straightening
https://www.instagram.com/reel/Cg3gqBzjLYr/?igshid=YmMyMTA2M2Y=
https://www.instagram.com/reel/Cg7FErQJ1L4/?igshid=YmMyMTA2M2Y=
Our Japanese Chemical Straightening service is an internationally patented hair straightening process that intensely straightens hair without damage. The result of Japanese Chemical Straightening is incredibly sleek, straight and polished locks that feel moisturised, healthy and smooth.
What result will I get?
Hair that is treated with Japanese Chemical Straightening will remain straight almost permanently. However, new hair will grow through, according to its natural texture.
How long does it last?
We recommend touching-up your Japanese Chemical Straightening treatment every 4 to 6 months, however the interval will vary depending on your hair's natural hair and how quickly it grows.
Booking here