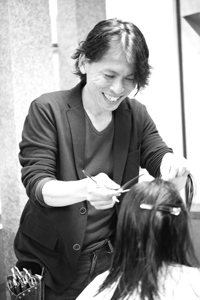 With over 30 years in the industry , Yasu is lead cutter the both of mens and lady's. Yasu's specialties include chemical straightening, foiling, balayage and is amazing when it comes to working with naturally curly hair. Yasu has a caring and patient approach to all his clients, he listens to their needs and gives professional advice to create the best personalised hair care plan for them .
Yasu was based in Brisbane Australia. basically works in Brisbane Australia. Every other months, he used to travel between two countries. However, due to COVID-19, Yasu cannot go back to Australia at the moment. That is why he is mainly based in jAPAN, working in YOKOHAMA TOKYO and SAPPORO.
Yasu takes the time to sit with you before each hair done and discuss the look you are looking to achieve. Then Yasu will give the skill, and make recommendations on the various looks that will be best suited to your facial structure, your personality, and your fashion.
Yasu has over 15 years experience working oversea countries, such as USA (LA), Australia (Brisbane) and Germany (Dusseldorf) as well.